Discover Your Passion at...
THE ADULT SCHOOL
A non-profit organization serving the community with lifelong learning opportunities
SPRING
REGISTRATION IS OPEN
(catalogs will be mailed January 23rd)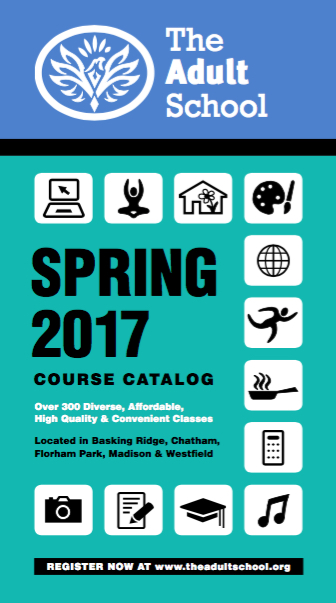 No Residency is Required. Members from all Communities Welcome.

4 Easy Ways to Register:
Online: On this web page click on "Catalog" or "Browse by Category"

By Phone: 973-443-9222 (limited summer hours, please call or email for availability)

By Mail: The Adult School, PO Box 125, Madison NJ 07940

In Person: Madison Civic Center, 28 Walnut Street, Madison NJ, 2nd Floor
9:00 a.m. -2:30 p.m.Monday - Thursdays, Closed Fridays